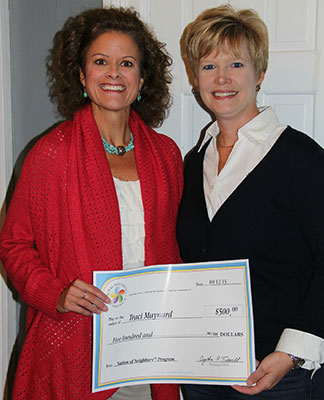 They say strength comes in numbers, but it all starts with one person. In communities across the nation, there are standout individuals, making a true difference in the places they live, because they have vision, passion and commitment.

Traci Maynard, is a perfect example. She's a mom to three busy children who had her world come crashing down when her 6-year-old daughter Erika was diagnosed with heart disease.

Traci and her husband spent 13 months fighting for their daughter's life--through doctor visits, treatments and a heart transplant. Sadly, though, their daughter's short life came to an end in 2006.

Throughout Erika's illness, the couple discovered a significant lack of resources available to help families in the midst of a crisis. So in 2007, Traci started a grassroots effort called the Erika Kate Hope Alliance to create a sustainable national assistance program for families like theirs. Its vision is to help families ease the emotional, spiritual and financial burdens for parents of children with life-threatening heart disease.

In 2013 Royal Neighbors of America presented Traci's organization with our Nation of Neighbors award. Aimed at empowering and enriching the communities we live in, the Nation of Neighbors program helps fund organizations like Traci's that are dedicated to making a difference in the lives of others.

Since 2007, Royal Neighbors of America members have supported 1,200 individuals by awarding them $1.7 million in grants to help make their dreams of building a stronger community come true.

In the past, winners have launched successful nonprofits like Dress to Success, produced a documentary to raise awareness about sex trafficking in the U.S., started a self-esteem magazine for teens and developed programs in which wedding gowns are repurposed as burial gowns for stillborn children.

So how can YOU get involved?

Finding the right people with the right cause is a big job. That's why we need your help. If you know anyone who has a dream to help build stronger a community, but just needs the financial backing to make it a reality, let us know.

If you are a Royal Neighbors' member, simply click here and you will find submission guidelines along with a nomination form.

Once the nomination form is submitted, a panel of four judges will select the winners. The more detailed a nomination form, the better a nominee will stand out. Nominees are not required to supply any materials or further criteria in order to qualify for the grant, but any extra work is appreciated.

The Nation of Neighbors program has been making a difference in the lives of many people for years and now is your chance to get involved and make a difference too.

For more information, a nomination form and submission guidelines, click here: http://www.royalneighbors.org/more-than-insurance/nation-of-neighbors.