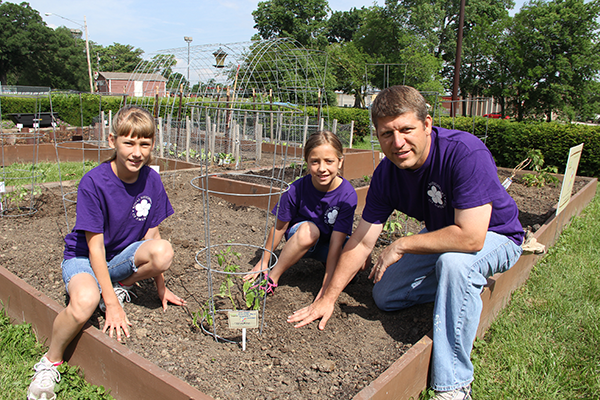 Why volunteer? The answer seems obvious…to help others. But there is much more to volunteering than meets the eye. National Volunteer Week, April 10-16, is the perfect time to remind ourselves of the benefits of volunteering and gather our families together to contribute, connect, and make a positive impact on our communities.

Studies conducted by United Health Group provide insight into the additional benefits of volunteering. Its studies indicate that volunteering improves individuals' physical health, emotional well-being, their sense of purpose, their connection to the community, and contributes to their overall quality of life.1

Volunteering as a family has benefits as well. When children grow up learning to volunteer, they tend to continue as adults and in turn, teach their children which results in generational outreach.

While it might be a challenge to coordinate everyone's schedules, it is important to teach the value of community service. By giving back in our own neighborhoods, we demonstrate first-hand how volunteering makes a difference on a grassroots level. Through volunteer activities, children learn responsibility, compassion, empathy, and gratitude.

When volunteering as a family, here are some ideas to consider:

Choose activities as a family.
Everyone has different interests and abilities so take turns determining projects. The variety will be eye-opening to everyone.

Some of the best family vacations can be about volunteering.
Whether you consider summer volunteer programs close to home or have the time and resources to volunteer overseas, the experience will provide memories for a lifetime.

Begin a family tradition.
It may be an annual volunteer vacation or a special activity surrounding a holiday (collecting canned goods for a shelter to start the new year, sending valentines to nursing home residents, writing letters to military personnel on Memorial Day, donating school supplies near Labor Day, adopting a needy family in December, etc.).

Invite your children's friends.
It's a way to share the activity and reinforce the social impact as well as the fun.

Include extended family.
It's often difficult to get the entire family together, except possibly on holidays, but a volunteer project might bring everyone out for a special day of giving back. Think about planning a family reunion around a volunteer opportunity.

Be aware of community opportunities.
The list of volunteer opportunities is endless. In addition to typical ways to make a difference such as cooking and serving homeless meals, holding clothing drives for shelters, cleaning up a park, or planting a community garden, pay attention to what is happening in the community. A family may have experienced a fire. The local library may need additional books. A flooded river may result in the need to fill sandbags. Be prepared to get the family to volunteer as the need arises.

Every family has its own dynamics and there are volunteer opportunities to fit the time, resources, and lifestyle of all of them. It's just a matter of finding what works for your family.

To learn more about Royal Neighbors' volunteer programs click here.

1Doing Good is Good for You, 2013 Health and Volunteering Study, p. 2, United Health Group, online article. http://www.unitedhealthgroup.com/~/media/uhg/pdf/2013/unh-health-volunteering-study.ashx.