As a member, you can apply for a Difference Maker Fund grant once a year to help offset the costs of your volunteer project.
The project and cause are up to you and can be different every year!
About the Program
If approved, you will receive $200 to make a positive social impact in your community
We encourage you to apply at least 60 days before the project, but we welcome your application any time
After your application is approved, you will receive a Difference Maker Kit including T-shirts and supplies to make your project a success
You are encouraged to rally your friends and family to help with the project – volunteers are not required to be Royal Neighbors members
As the project leader, you will track the number of volunteer hours generated from the project and submit a final report within 10 days following the project end date. Submitting the final report on time will enter you into a random drawing to win an additional $500 for your cause/organization!
Ready to get started?
Need to complete your final report?
Need inspiration for your project?
General program guidelines
Projects can be a fundraiser, community project, or educational event. For example, you can host a project that:



Supports a grassroots cause that makes a positive social impact in your community
Supports a charitable cause that specifically helps women or girls
Provides leadership, development, or financial literacy opportunities for women, girls, or other community groups
Funds cannot be used as a direct monetary contribution to an organization, nor can multiple members apply to receive a grant for the same project during the same year
Funds must be used within the calendar year awarded unless prior approval was received from the Home Office
All general and beneficial members are eligible for this program once per calendar year
Funds will be awarded at the sole discretion of Royal Neighbors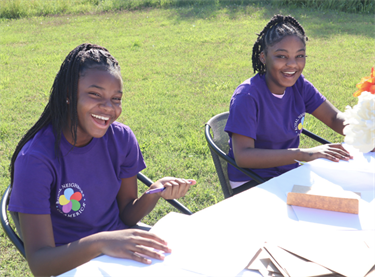 Member programs are provided at the discretion of Royal Neighbors of America, are not available in all states, and are subject to change without notice. They are not part of any insurance or annuity contract and are not guaranteed. Insurance or annuity products should not be purchased for eligibility or maintenance of nonguaranteed membership programs. These products should only be purchased if they meet the financial needs of the applicant. Member programs are available at no extra cost. Approval is not guaranteed. Supplies are limited.