Created by Royal Neighbors of America Members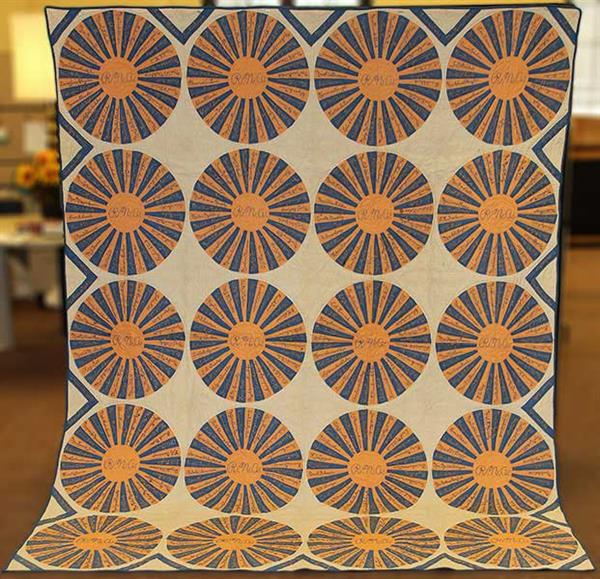 (Rock Island, IL) – Quilting and life insurance typically have no commonalities, but in the case of Royal Neighbors of America, there is a common thread.

The Smithsonian's National Museum of American History in Washington, D.C. accepted two hand-made, 1930s quilts each with a rich community history donated by Royal Neighbors, one of the largest and oldest women-led life insurers in the nation. The 85-year-old quilts were created by members of Royal Neighbors' volunteer chapters who desired to help others in their communities, an organizational mission that still exists today. The donated quilts were created for residents of a senior living center established by the organization, which was open from 1931 until 2004.

The RNA wheel quilt with 36 blades in the unusual colors of royal blue and orange was made by Hattie Gass, a member of Royal Neighbors' Virden, IL, volunteer chapter. While quilting is typically a group event, Hattie embroidered the names of the members of the Virden chapter on the quilt by hand and stitched "RNA" in the hubs of the wheels as a one-woman project. She also included the names of local businesses that supported the community. There are 10-12 stitches per inch in the blades which is indicative of a master quilter.

The second keepsake was made by members of the Clovis, NM, volunteer chapter and features embroidered flower blocks, including lilies. The lilies represent the name of the chapter which circa 1930 was called "Lily Camp 7699." The names of chapter members also were stitched in various alternating lavender and white blocks.

According to Catherine Noll Litwinow, Bettendorf, IA, Trained Appraiser, Teacher, Quilter, and Lecturer, "Quilting is a multi-million dollar business today, but the true value of quilting is that it is one of the few legacies left by women. Quilts are a way of remembering the role women have played in history."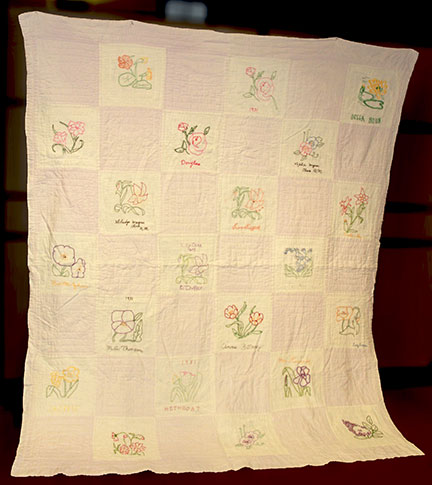 She continued, "These memory quilts are an excellent example of the art of hand-stitched quilting. The names, dates, and locations stitched into these particular quilts make them valuable historical research documents but more importantly, they demonstrate the connection members felt to Royal Neighbors."

Royal Neighbors is beginning to make plans for its 125th anniversary celebration in 2020, and the quilts are part of a collection of items from its historical archives. Royal Neighbors will also donate two quilts to the International Quilt Study Center and Museum in Lincoln, NE, one of which was hand-made by Royal Neighbors members in Alliance, NE.

"We are more than the conventional life insurer," said Cynthia Tidwell, Royal Neighbors President/CEO. "Yes, our roots are in financial protection, but they also run deep in our 'neighbor-helping-neighbor' philosophy, which is the origin of the name Royal Neighbors of America. To us these quilts represent the generational tie that has continued to bring our members together as families, neighbors, and communities."

About Royal Neighbors
Royal Neighbors of America, one of the nation's largest women-led life insurers, empowers women to meet the needs of their families with annuities and life insurance products such as whole life, simplified issue, and universal life. Royal Neighbors was founded in 1895 and is headquartered in Rock Island, IL, with a branch office in Mesa, AZ. For more information, visit www.royalneighbors.org or call (800) 627-4762.

About the National Museum of American History
Through incomparable collections, rigorous research and dynamic public outreach, the National Museum of American History explores the infinite richness and complexity of American history. It helps people understand the past in order to make sense of the present and shape a more humane future. The museum is continuing to renovate its west exhibition wing, developing galleries on democracy, the peopling of America and culture. The museum is located on Constitution Avenue, between 12th and 14th streets N.W., and is open daily from 10 a.m. to 5:30 p.m. (there are extended summer hours until Sept. 4.) Admission is free. For more information, visit http://americanhistory.si.edu.

Click here to read about the Giving in America exhibition at the Smithsonian's National Museum of American History in Washington, D.C. where one of Royal Neighbors' quilt is currently on display.
Form #:P00091; Rev. 12-2016